Come and visit Gaudi's amazing Sagrada Familia. Save up to 2 hours when you buy skip the line tickets for Sagrada Familia in advance. Save precious time, simply show your printed or mobile priority tickets on your smartphone and enjoy. Buy the cheapest Skip The Line Tickets for Sagrada Familia here.
Background Info Sagrada Familia
The Sagrada Familia is funded by the people. Each ticket goes towards the construction. Although unfinished, the basilica is by no means unworthy of a visit. In the end the Sagrada Familia will have taken 144 years to complete. On the 100th anniversary of Gaudí­'s death – in 2026 – the Sagrada Familia should be finished completely and as a result more and more people come to visit within the next couple of years.
Full Sagrada Familia plan: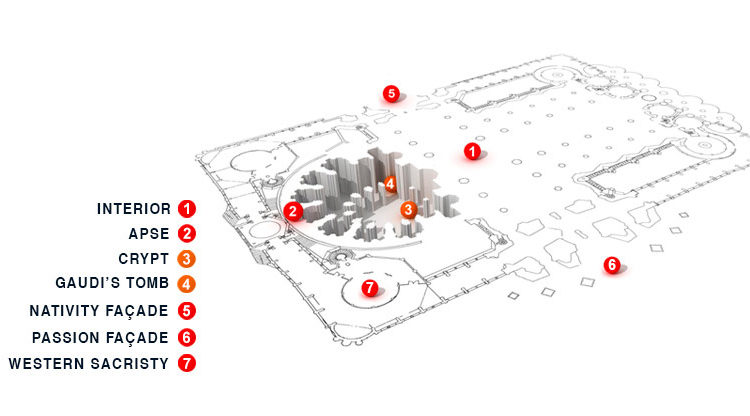 Highlights Sagrada Familia
With 3 million visitors each year, the Sagrada Familia is the most popular tourist attraction in Spain.
There are no words to describe the feelings inside the temple of Modernism. The organic forms of its structure, the light that enters by its stained glasses and the symbolism of the sculptures that houses, will provide your most impressive experience in Barcelona.
Enjoy magnificent views over Barcelona at the top of La Sagrada Familia.
Take the guided tour and easily learn more about this unique concept of architecture.
Enjoy this amazing virtual visit up front!
Availability Priority Tickets Sagrada Familia
It might happen that skiptheline tickets are sold out during popular (sunny) days and/or certain time slots, therefore please check our availability first.
Opening Hours & Best Time to Visit Sagrada Familia
The best time to visit Sagrada Familia is in the early hours or in the late afternoon (after 3pm), when the sun is just perfect for pictures as well. Sagrada Familia is open from dusk till dawn. On National Holidays they usually open from 9 am to 2 pm.
Tip: there are useful free (and paid) smartphone guides available in the Apple Store and on Google Play.
Sale of tickets finishes 30 minutes before closing time, so don't be late!
Skip The Line Ticket Prices Sagrada Familia
We recommend to book an unforgettable guided visit tour and skip the line experience for EUR 40 here.
Basic tickets only allow you to enter the Basilica. In other words, it does not include any additional services (like access to the towers) and no extras can be purchased after you've entered the grounds. Therefor, we recommend to buy the skiptheline tickets and tower access in addition. So you can, for instance, enjoy stunning views over Barcelona!
How To Get To Sagrada Familia?
Sagrada Familia can be reached very easily via Metro. However, there are several ways to get there. It's best to enter the Sagrada Familia via the Marina-side. Get off at the stop with the convenient name: Sagrada Familia!